Crystal Flash Drive & Black Luxe Soft Touch Box Bundle
Brand:Tyndell
Starting at $27.91 eachView price chart
Bundle your USB flash drives and flash drive packaging for additional savings! Our Crystal Flash Drives are an elegant way to deliver digital images to your clients. In this bundle the flash drive is paired with a Luxe Soft Touch Black USB Box for a luxurious delivery! View product details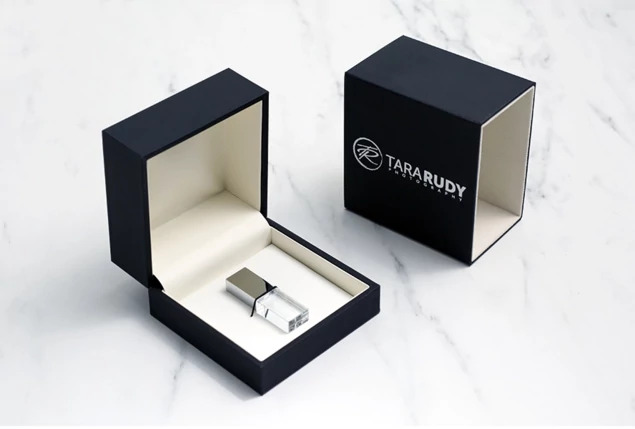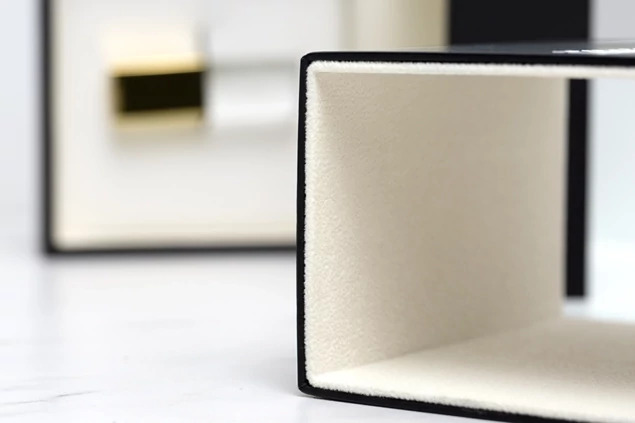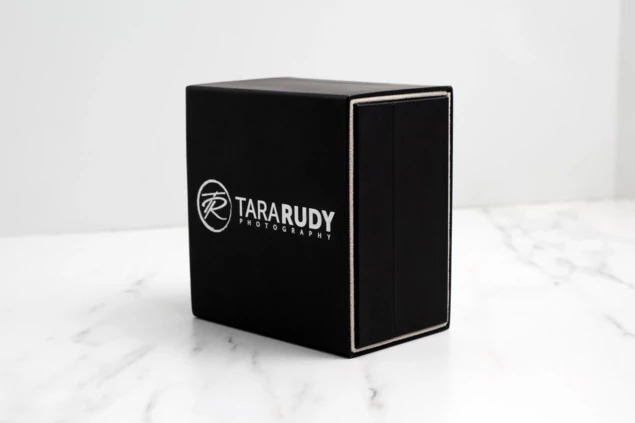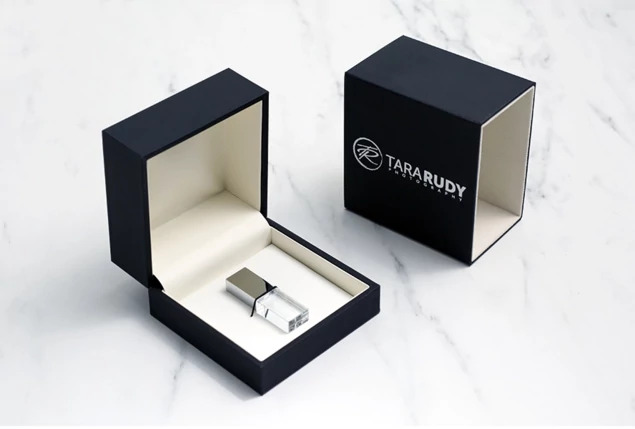 About Crystal Flash Drive & Black Luxe Soft Touch Box Bundle
Bundle your USB flash drives and flash drive packaging for additional savings! Our Crystal Flash Drives are an elegant way to deliver digital images to your clients. In this bundle the flash drive is paired with a Luxe Soft Touch Black USB Box for a luxurious delivery!
---
Crystal Flash Drive
Available in four colors: Black cap, Gold cap, Silver cap, Rose Gold Cap
Available in four sizes: 4GB, 8GB, 16GB, 32GB (Black, Silver or Rose Gold cap only)
Select Crystal Flash Drives are now available with NEW 3.0 technology for faster and more efficient uploads/downloads
We recommend this product for: wedding portraits, family and children portraits, newborn portraits, fine portraits
FREE laser engraving available
Luxe Soft Touch Black USB Box
Modern, high-end alternative to USB packaging designed specifically to hold flash drives securely in place
Unique design includes a slip-in box cover for added protection and style
Crafted from high-quality white art paper with a soft touch texture
Ivory suede lining
Elastic band holds one USB flash drive securely in place
FREE full color printing
---
Acceptable files for full color printing and laser-engraving: AI or EPS are preferred; JPG, PDF, PNG, and PSD files will also work. Place logo on a transparent background. Minimum 300 DPI, but 600 DPI is preferred.
PRICE PER Crystal Flash Drive & Black Luxe Soft Touch Box Bundle
Item / Size
Color
Price for 1
4GB - Crystal Flash Drive
Black Cap
$

27.91

4GB - Crystal Flash Drive
Gold Cap
$

27.91

4GB - Crystal Flash Drive
Silver Cap
$

27.91

4GB - Crystal Flash Drive
Rose Gold Cap
$

27.91

8GB - Crystal Flash Drive
Black Cap
$

29.46

8GB - Crystal Flash Drive
Gold Cap
$

29.46

8GB - Crystal Flash Drive
Silver Cap
$

29.46

8GB - Crystal Flash Drive
Rose Gold Cap
$

29.46

8GB - 3.0 Crystal Flash Drive
Rose Gold Cap
$

31.52

8GB - 3.0 Crystal Flash Drive
Silver Cap
$

31.52

8GB - 3.0 Crystal Flash Drive
Gold Cap
$

31.52

8GB - 3.0 Crystal Flash Drive
Black Cap
$

31.52

16GB - Crystal Flash Drive
Black Cap
$

34.09

16GB - Crystal Flash Drive
Gold Cap
$

34.09

16GB - Crystal Flash Drive
Silver Cap
$

34.09

16GB - Crystal Flash Drive
Rose Gold Cap
$

34.09

16GB - 3.0 Crystal Flash Drive
Rose Gold Cap
$

36.15

16GB - 3.0 Crystal Flash Drive
Silver Cap
$

36.15

16GB - 3.0 Crystal Flash Drive
Gold Cap
$

36.15

16GB - 3.0 Crystal Flash Drive
Black Cap
$

36.15

32GB - Crystal Flash Drive
Black Cap
$

42.33

32GB - Crystal Flash Drive
Gold Cap
$

42.33

32GB - Crystal Flash Drive
Silver Cap
$

42.33

32GB - Crystal Flash Drive
Rose Gold Cap
$

42.33

64GB - 3.0 Crystal Flash Drive
Silver Cap
$

46.15

64GB - 3.0 Crystal Flash Drive
Gold Cap
$

46.15

64GB - 3.0 Crystal Flash Drive
Black Cap
$

46.15

64GB - 3.0 Crystal Flash Drive
Rose Gold Cap
$

46.15

128GB - 3.0 Crystal Flash Drive
Silver Cap
$

51.15

128GB - 3.0 Crystal Flash Drive
Gold Cap
$

51.15

128GB - 3.0 Crystal Flash Drive
Black Cap
$

51.15

128GB - 3.0 Crystal Flash Drive
Rose Gold Cap
$

51.15
11/06/2018

ABSORB Productions Says

"This product is wonderful! We've started ordering this for my wedding clients and have received great feedback about them. This luxe box with our logo is beautiful and the engraved flash drive is perfect. We will definitely continue ordering these!"