PG 4x5-6 Folio
Brand:TAP
Starting at $16.00 eachView price chart
TAP PG Folios, are perfect for all types of photography. They are great for Senior portraits, Family portraits, Wedding portraits, commercial portraits, and so much more. These folios are available in many sizes to fit multiple print sizes. Don't forget to add imprinting with your studio die, and personalize them with your clients name and date. View product details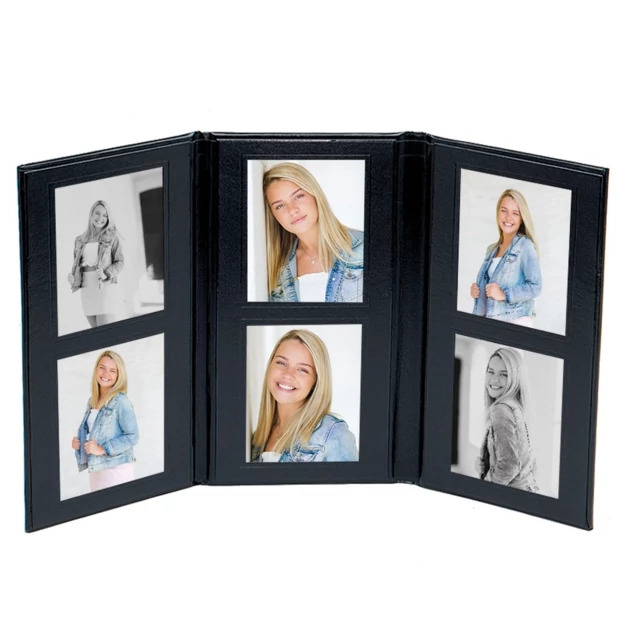 About PG 4x5-6 Folio
TAP PG Folios, are perfect for all types of photography. They are great for Senior portraits, Family portraits, Wedding portraits, commercial portraits, and so much more. These folios are available in many sizes to fit multiple print sizes. Don't forget to add imprinting with your studio die, and personalize them with your clients name and date.
Simulated Leather Cover
Foil border detail around photo openings
Boxed individually
No mats necessary
Holds 6 4x5 vertical prints
Available with Black, Gold, or Satin foil detail around each opening
PRICE PER PG 4x5-6 Folio
Item / Size
Color
Price for 1
PG 4X5-6
Black/Black/Satin
$

16.00

PG 4X5-6
Black/Black/Gold
$

16.64

PG 4X5-6
Black/Black/Black
$

16.64
Discount Information:
Buy 10 get 1 free on Tap albums, inserts, mats, proof books, and folios (must be all the same style item). To activate discount add 11 total items to your cart.

Style refers to the product type: album, insert, or proof book.
Disclaimer - Only 1 discount can be applied to each individual album, folio, or pack of inserts and mats.
No Reviews
There are no published reviews for this product yet.