Black Box Starter Kit
Brand:Tyndell
Starting at $140.00 eachView price chart
Tyndell Portrait Boxes are rated among the highest quality in the industry. Our boxes are designed to offer the absolute best combination of quality and price. The Tyndell Portrait Box Starter Kit is an excellent way to start branding your logo on your products with minimal cost to you for the set up. Box starter kit includes:View product details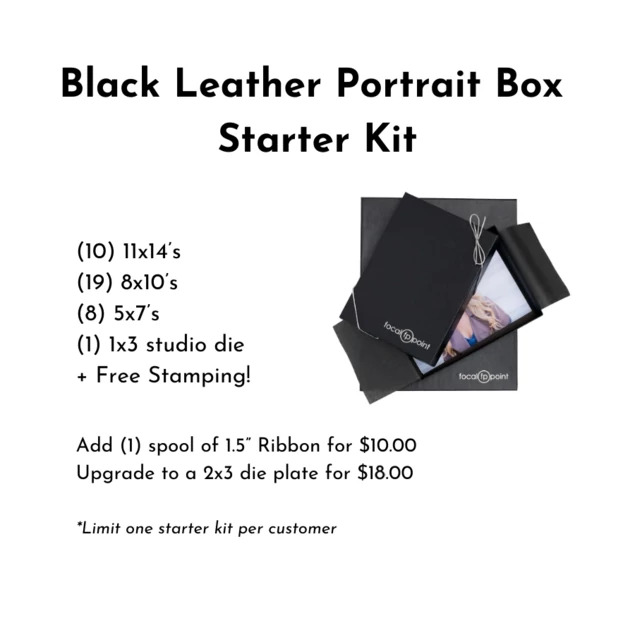 About Black Box Starter Kit
Tyndell Portrait Boxes are rated among the highest quality in the industry. Our boxes are designed to offer the absolute best combination of quality and price. The Tyndell Portrait Box Starter Kit is an excellent way to start branding your logo on your products with minimal cost to you for the set up. Box starter kit includes:
(10) 11x14s, (19) 8x10s, (8) 5x7s,
(1) 1x3 Studio Die Plus FREE IMPRINTING!
Add $10.00 to add a roll of ribbon
Add $18.00 more to upgrade to a 2x3 Studio Die
One Box starter kit per customer
PRICE PER Black Box Starter Kit
Item / Size
Color
Price for 1
BLACK BOX STARTER KIT
Black
$

140.00
No Reviews
There are no published reviews for this product yet.